How it all started …
How it all started …
KISEKI MC Phono Cartridges.
In the 80's, a company was founded in Holland, called Audiophile Products. The rumour said -and it was even written- that Mr Goro Fokadu founded it, but … Herman van den Dungen did!
At that time, the company was mainly used for kind of audio-hobby activities with a few friends. We were experimenting with record-weights (yes, we were melting lead at that time in the kitchen) and record clamps, building tone-arms (we made a Dutch version of the Hadcock arm which was for a while hobby-wise a co-op with Mr Eddy Driessen from Pluto Audio), producing PinPoints (the European version of TipToes) -also known as CounterFeet by Sumiko– for placing under loudspeakers and electronics, the Record Interface Mats (which we also produced for Oracle), the Record Interface Clamp, the CD Interface Mats (several thousands were sold by Herman's Gryphon friend Flemming Rasmussen) and so on …
Herman van den Dungen also owned Durob Audio (he still does). Durob Audio distributes different brands and at that time was also the European distributor for Koetsu cartridges. The Koetsu cartridges were manufactured by Yoshiaki Sugano. Dave Fletcher (from Sumiko and also designer of The Arm) handled Koetsu business in the US and Durob Audio was taking care of Europe; each of us getting around 30 cartridges per month, delivery strictly prepaid. Communication was quite difficult, with hands and feet and a German dictionary, since Sugano's daughter only spoke a bit of German next to her native language. That created very funny and expensive situations while Herman and she were trying to talk over the phone in the middle of the night in German; the first 5 minutes were not much more than Hallo, Hallo, Hallo … until the operator, listening to us, interrupted us to say "this call is going to be damned expensive if you only say Hallo!". 🙂
At a certain moment both Dave and Herman felt that things were not going as smooth as before. Deliveries were delayed while payments were made; cartridges sounded differently. We had to pick the best sounding ones and we were sending back the wrong ones. Sugano's reaction was quite incoherent: we had to pay very high costs for repair while the cartridges were new! Also delays were getting huge. Situation became out of control.
One day, Herman did not receive his ordered and paid cartridges in time. Searching for info, he found out that instead of shipping to Holland, the cartridges were sent to Switzerland. Sugano's excuse was that Switzerland did not belong to Europe! Well it was time to wake up and take action…
Herman had been a few times in Japan and next to visiting Mr. Sugano, he also hung out with the local high-end guys. Mr. Kondo (Audio Note), Mr. Nakanishi (RF Entreprises and Stellavox), Mr. Suzuki (from a big high-end shop in Akihabara), Mr. Keeske Abe (young man from a rich family developing Metropole Electrostatics) are the names he remembers. He visited numerous factories. At that time, Japanese engineers started leaving the big companies like Sony, Panasonic to begin their own little cottage business. One of them, Mr. Kondo agreed to design and produce a special transformer for Herman. The first one he got was in a kind of "cigar box", but it worked very well. In his hotel room Herman designed a housing for this transformer and a week later he had a sample of the MCT1 Silver transformer. He took it back home in Holland and everybody who listened to it agreed it was a nice piece.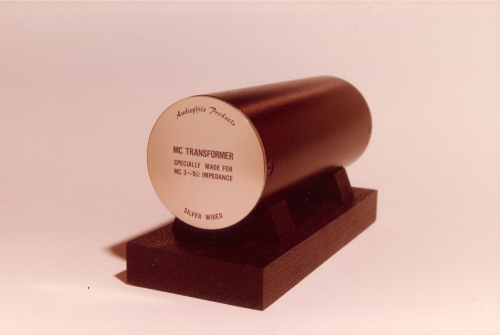 Herman felt that they were going to run into a problematic situation with Koetsu. So, he contacted Dave Fletcher in USA and asked him about his situation. They agreed to talk with a mutual friend / business contact: Mr. Yasuo Nakanishi. During CES Yasuo listened to their stories and promised as a friend to help them. Well, to make a long story short … After some weeks Herman and Dave got a message that it was much better that a Japanese guy was handling the distribution instead of an American and an European guy. The Japanese guy was … "the friend" Yasuo Nakanishi, who was even so rude to ask Herman to give him a list of his customers with the necessary contact-details, so he could without any delay continue to supply the European market with Koetsu cartridges. Thank you Mr. van den Dungen, thank you Mr. Fletcher … And "no-thank-you" Yasuo … Although that decision turned out to be for Herman the beginning of a sensational new project … because …